NEW AD CAMPAIGN: MoveOn Targets Members of the GOP Treason Caucus for Their Role in Deadly Insurrection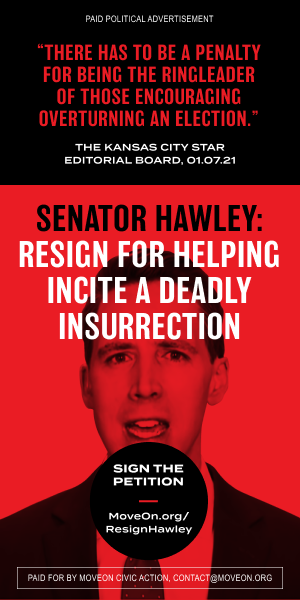 Those who aided and abetted a deadly insurrection must be held accountable.
Washington, D.C.– Today, MoveOn Civic Action is launching a new national and state-specific "Treason Caucus" accountability campaign to hold politicians accountable for aiding and abetting a deadly insurrection against the United States government. On January 6, the American people watched as a mob of violent, white supremacist, domestic terrorists stormed the Capitol at the urging of Donald Trump. But Trump did not act alone. For months, Republican elected leaders conspired with him to lie to the American public about the election. Many of those Republicans embraced and encouraged the rallying cry of the criminal rioters—even after they killed a police officer—by voting to overturn the election results. MoveOn and its millions of members will now hold those Republicans accountable.
"When the country watched as a violent Trump mob stormed the Capitol, we saw the impact of months of delusional election fraud lies and incendiary rhetoric from Donald Trump come to a deadly fruition," said Rahna Epting, executive director of MoveOn Civic Action. "But Trump did not act alone. He had help from elected officials who, just like Trump, now have blood on their hands. Those who led this insurrection—from Donald Trump on down—must be held accountable. Nothing less than our democracy is at stake. If we don't take action now, Cruz, Hawley, and their band of conspiracy theorists will still maintain power in an office they dishonored and don't deserve to hold."
MoveOn is launching a multifaceted "Treason Caucus" accountability campaign including the following:
Newspaper homepage takeovers

to remind constituents how their senators failed them. MoveOn is targeting Josh Hawley (R-MO), Ted Cruz (R-TX), and Ron Johnson (R-WI) with homepage ad takeovers of

The

Kansas City Star

,

Houston Chronicle

, and

Milwaukee Journal Sentinel

websites, respectively. See examples below:
Let's block ads! (Why?)
, MoveOn: People-Powered Progress reports